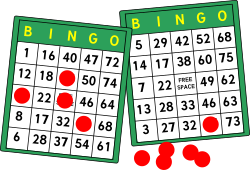 Bring Bingo to the Classroom
R
eviewing covered material before a test in a fun format is a great way for students to see what they learned, and what they still need to work on (this is useful for the teacher also). Below I will describe my favorite 5 review games that I know about. Please comment with any review games and links that I do not mention.
1
-
Jeopardy !
Jeopardy review games are fun and easy to make. You can split the students in teams and keep track manually of points earned, or use an online template.
There are a lot of powerpoint templates you can download, but what I love is the online web site Jeopardy Labs. You enter the questions and answers, and it saves the link online for you to bookmark and retrieve whenever. It's easy, check it out! In addition, this site has some pre-made templates you may be able to use as well. Wonderful!
Jeopardy Labs
2- Bingo !
Who doesn't love Bingo? Especially if there is a prize involved of some sort. Bingo is really fun, and can even be used in centers. You can actually do Bingo for any subject thanks to websites with Bingo formatters. You do have to come up with the questions and answers for the board, but the web sites do the rest of the work. Then, you just print them out and play ! Fun stuff :) Here are web sites that do such tasks for you: (Yes, they're free..and some sites have templates already made you might be able to use!)
Print Bingo
Printable Bingo Cards
Custom Bingo Card
Bingo Generator
3- Who Wants to be a Millionaire?
This is a flash game, and there are Powerpoint templates and various templates around the web for this review game. What's great about it is that if students mess up, they have to start over. Since the students really want to win the millions, they keep trying over and over and memorizing the questions and answers so that they can eventually get the millions. This tricks them into studying and memorizing material. Sneaky, huh? Here is the website for a template for this fun game. Play as a class, or even better, play individually or in pairs at a center.
Millionaire Review Generator