common core vocab cards with science and social studies vocab too!
It's time again for another dose of Taking a Walk on the Teaching Side's 10 Weekly Teacher Finds. As a reminder, this is not a top 10 list..but just a list of items I have found and think readers may find useful from fellow bloggers and TPT sellers. Some of these items are from my followers, and some are not, and I always post one by me. Browse this week's 10 finds, follow, link, pin, buy, and enjoy! Come back Wednesday for my BIG 100 followers giveaway! Continue below!
1.)
Skip Counting Dino Puzzles
by Casey at
2nd Grade Math Maniac
- This is a set of adorable dinosaur themed pizzles that students put together using their knowledge of skip counting. There are lots of puzzles included, and it's cheap!
2.)
Our Class is not Complete without You Craftivity
freebie by
Special Teacher for Special Kids
- This would have been especially nice during the back to school time, but it is a free cut-out activity that students to express who they are.

3.)
Editable Owl Themed Book Bin Labels
by
Teaching Fourth
- This seller's blog asks the question, "Do you love owls? If so check out my TPT store." The answer to that question is , "Why yes I do love owls and will check out your store." This is what I did and stumbled upon a very cute store with these editable owl themed book bin labels. I like that there is an editable option, and there are 36 in all!
4.)
Sight Word Safari
by
A Day in First Grade
- This set includes seven fun games and flash cards with various Dolch site words all in a really fun safari theme!
5.)
Moovelous Farm Math Activities
from
Teach with Laughter
- This set of math activities is soooo cute. I just love the cow theme and it is full of practice, and games that would be great for math centers.
6.)
Common Core Word Wall flash cards
by
Taking a Walk on the Teaching Side (me!)
- This link is for the 4th grade set, but if you browse my store you will find individual sets for grades second-fifth, and in the next week..I will have cards for first and sixth available as well! Each set has at least 150 cards, each subject having a different cute colorful striped border. The words are common core-aligned ELA and Math, as well as science and social studies vocabulary! They are great for word walls or just using as flash cards and review! There are blank cards too!
7.)
Halloween Literacy Pack
by
Adventures in Room 5
- 20 pages of Halloween-themed literacy activities including writing prompts, papers, abc order ghost sort, recipe posters, acrostic poetry, and more! Perfect for the upcoming holiday!
8.)
Monkey Themed Classroom Attention
-Getters by
Sub Hub
- I relate to this teacher because I was a 4th grade teacher with a teaching job, and am now a sub (I live too far from previous job, and now can't get a teaching job in this market). This blogger was a sub, and recently got a teaching job in 4th. I like her ideas for subs, and these posters would be great for teachers as well. This is a set of posters you can post or hold up to teach students fun ways to focus their attention on you.
9.)
Common Core Kindergarten Math Assessments Freebie
by
Color Me Kinder
- This Freebie includes 14 quick data collection assessment activities that align with about 5 or so of the kindergarten math standards.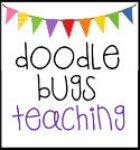 10.)
Short A Flashcard Game Freebie
by
Doodle Bugs Teaching
- A free short- a flash card game or review that has a cute apple theme and is 7 pages long!
That is this week's 10 Weekly Teacher Finds..pin, link, share, and browse away!
Stay tuned for my BIG 100 followers giveaway that is going LIVE This Wednesday at 5:00 pm EST!